Viz (last reported 104279h ago)
Snorkeling and Scuba Diving at Breakers
The Breakers is a less visited beach due its inaccessibility and, as the name implies, it is less protected than La Jolla Cove. People climbing on these rocks have been surprised by rogue swells that have swept them fatally into the sea. Talk to a local dive shop before attempting this dive. Around the Western point of La Jolla Cove. (See driving directions for La Jolla Cove)
Access
shore
View Entry Map
Wide open to the sea, the dive should only be attempted on calm days.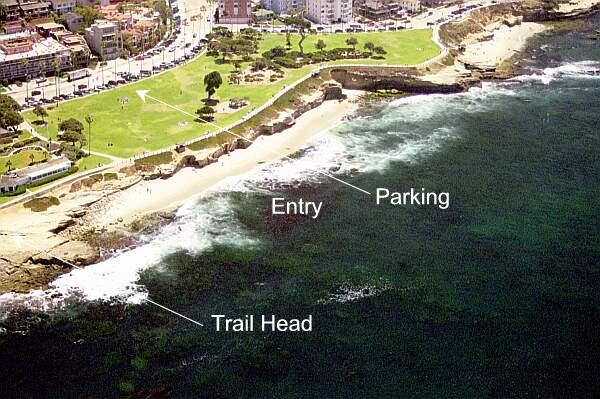 Yes, this is Boomer Beach. Not really much of a beach or entry unless surf is very small. Anyone diving this area will generally enter and exit around at the Cove and swim over to this area on the surface.
Originally posted on shorediving.com
This place is not called "Breakers." It's properly called "Boomer" and is one of the best bodysurfing breaks in San Diego County. No surfboards, bodyboards, or air mats allowed. Diving here is only done when the surf is small but this means good game when the surf is flat. There are two points, North Boomer and South Boomer, at each end of the grassy area known as Cove Park. Off the beach it's all rock reefs, lots of fish, a few bugs. Pick your time to dive carefully.
Originally posted on shorediving.com